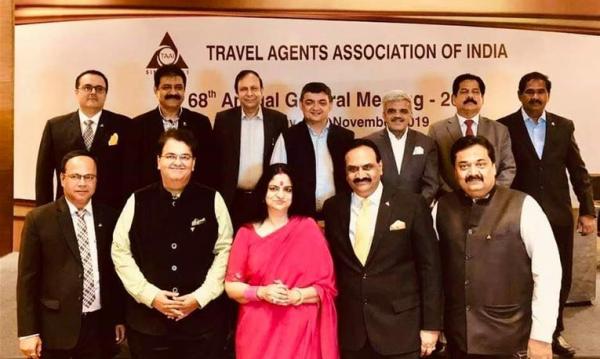 Mrs Jyoti Mayal, Director New Airways Travels has been elected as the President of Travel Agents Association of India (TAAI) for the period 2019-2021 Mrs Jyoti, former Hon. Secretary-General of TAAI has registered a thumping victory against the outgoing Vice President Mr Sanjay Narula, Founder & CEO of Apex Travel & Tour in the straight contest.
Mr Lokesh Bettaiah, Triway Travels, Bangalore is the new Hon. Secretary and Mr Shreeram Patel, Unicorn Travels have elected as the Hon. Treasurer while Mr Jay Bhatia, Tulsidas Khimji Holidays has been elected unopposed as the Vice President of TAAI.
The Managing Committee members got elected for the next two year term are Mr. Anoop B Kanuga (Bathija Travels, Mumbai), Mr. Rajan Sehgal (Airborne Travels Delhi), Mr. P. Murugesan (Pioneer Aero Travels Chennai), Mr. Devesh Agarwal (Victoria Travels Kolkata), Mr. Paras Lakhia (Utopia Travel Services Ahmedabad), Mr. Sunil Notani (Air Amani Travels Bhopal) and Mr. R Venkatachalam (Naveen Air Travels Trichy)
Mrs Jyoti Mayal, an experienced and industry veteran is one of the familiar faces of the industry was served as the Hon. Secretary-General of TAAI for the term 2017-19 with Mr Sunil Kumar R, the outgoing President, who lead the association for more than 6 years. Mrs Jyoti was the lead of Northern Region of TAAI during 2009 to 2013 period and elected to TAAI Managing Committee in 2013 and thereafter actively involved in the conduct of the last two annual conventions of the association, which was held in Srinagar – Jammu & Kashmir and Kunming in China. Her husband Mr Balbir Mayal, Managing Director of New Airways Travels was the President of TAAI in 2003- 2005 term.
While commenting on her election as the President of TAAI, Mrs. Jyoti said, Today history is created, A landslide victory for my team and me, mean a beautiful feeling of leadership to see my full team being elected and a wonderful sense of pride that first time in history of TAAI in 68 years to have both husband and wife lead the oldest nodal body TAAI as the President. I am humbled and honoured to have the strength of my members to support me to achieve my goals and vision to take TAAI to next level in this testing time.
Mrs Jyoti has also added that her first and foremost priority as the President of India's premier travel & tourism body is to recognize, the Tourism and Travel industry sector as a recognized industry by both union and state governments. To achieve this target, we should have a very strong say with the airline companies and governments.
We will fulfill our promise to the industry by constituting a strong board of advisors with Government, Airlines and influencers and Women empowerment in our membership along with Clarity on GST with the correct favourable policy and Ease of doing business with Embassies and consulates.
We will ensure the proper representations of all regions and chapters of TAAI and total revamp of TAAI Secretariat with a self-sufficient manner. The lack of coordination with various central ministries including the Ministry of Civil Aviation, Ministry of Tourism, Ministry of Commerce will be sorted out with a strong media connect. The awareness to consumer and industry also in our main agenda list, added Mrs Jyoti.
This year Mrs Mayal has to lead a team named Team Progressive against Mr Sanjay Narula's panel and made a clean sweep in the election by winning all seats for the TAAI Executive and Managing Committees with comfortable margins.
TAAI, one of the oldest travel industry associations in the country was held its 68th Annual General Meeting (AGM) on November 28, 2019, at Hotel Sahara Star in Mumbai.